Edmonton International Film Festival will be offering a delightful combination of stellar film and food in it's screening of Midnight's Children followed by food and drinks.
Midnight`s Children is an epic film from Oscar-nominated director Deepa Mehta, based on the Booker Prize winning novel by Salman Rushdie. At the stroke of midnight on August 15, 1947, as India proclaims independence from Great Britain, two newborn babies are switched by a nurse in a Bombay hospital. Saleem Sinai, the illegitimate son of a poor Hindu woman, and Shiva, the offspring of wealthy Muslims, are fated to live the destiny meant for each other.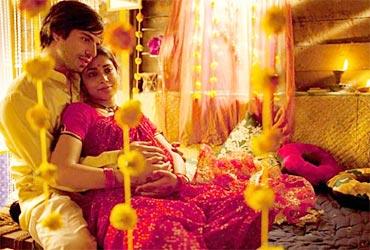 Their lives become mysteriously intertwined and are inextricably linked to India's whirlwind journey of triumphs and disasters. From the unlikely romance of Saleem's grandparents to the birth of his own son, Midnight's Children is a journey at once sweeping in scope and yet intimate in tone. Hopeful, comic and magical, the film conjures images and characters as rich and unforgettable as India herself. English with some Hindustani.
Join Edmonton International Film Festival after this incredible documentary for drinks and hors d'oeuvres at Haweli downtown.
About Hawli:
Essentially a Haweli is a place of tranquility and beauty where decadence and indulgence reigns supreme. We have taken the spirit and ethos of the Haweli and channelled it into our restaurant.
Experience a taste of Indian splendour courtesy of our exceptional restaurant, Haweli. Over the centuries, Hawelis have been denoted as the up keepers of Indian traditions and cuisines. With Haweli Indian Restaurant, we have attempted to carry on this heritage.
Not bound by any particular tradition, our chefs have picked dishes from culturally and chronologically diverse sources from wholesome village heritage to indulgent aristocratic favourites; from the ancient and elaborate to the practical and modern.
This has resulted in a style unique to Haweli. A thousand years of culinary evolution, skilfully interpreted to suit 21st century palates.
In ancient times and even up to the 19th century Haweli was a place in the vicinity of the fort where the royal families and selected ministers got together in a congenial environment. There they discussed plans about the current and future state of affairs of the kingdom while enjoying sumptuous dishes made by adept cooks, who were selectively picked from every part of the empire.
The number of cooks depended on the size of the state, but the average was around a hundred. Evidently, we at our Haweli do not have the necessary facilities to arrange for a hundred cooks.
However, one thing that we can do is to have cooks who can compensate for those hundred cooks! We have chosen our chefs from a pool of the most talented chefs in India who will make and bring you the best of North Indian dishes including the celebrated curries and the tandoori specialties. Such taste can only be found in selected places, even in India! By means of Haweli Indian Restaurant we have now brought the royal heritage of Haweli to Edmonton in offering the true essence of authentic Indian food.
Visit the Hawli Facebook page here: https://www.facebook.com/pages/Haweli-Restaurant/263975033637041?rf=131975253489816.
For more information on this event visit the Facebook page here: https://www.facebook.com/events/352955988120595/.  The Edmonton International Film Festival runs from September 28, 2012 – October 06, 2012.  To learn more about this festival visit their webpage.